About Us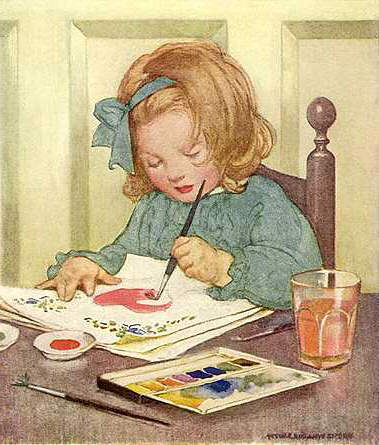 MISSION STATEMENT:
Here at The English Robin, we believe that it is our responsibility to give the customer quality merchandise, exemplifying the master craftsmanship of a bygone era. We are always trying to dream up something new, but in doing so, we do not neglect tradition.
I am an artist, and the purpose of The English Robin is to provide the customer with my original artwork, done in the tradition of the Old World artisans. Each piece will vary slightly, as no two items are alike. I want my work to appeal to all ages and budgets. I absolutely love what I do, and if my customers are truly satisfied with their experience at the English Robin...well, isn't that what our mission is all about?
A personal note from founder and artist, Sarah Meadows:
Beside the computer in my office/studio is a tapestry bookmark with a little robin woven just above the words to William Allingham's poem, "Robin Redbreast."
...Our thrushes now are silent,
Our swallows flown away -
But Robin's here, in coat of brown,
With ruddy breast-knot gay.
I bought that bookmark in England two summers ago. It serves as a reminder of the little English robins I saw on my trip. At that time, I had no idea how important those birds would be to me.
When I was young, I read The Secret Garden. I was enchanted with the "robin who showed the way," and hoped that if I ever had the chance to go to England, I would spy a robin redbreast. I remember watching the British version of "The Secret Garden" movie, and I memorized the robin's call. I knew that I would recognize that sweet song anywhere.
My dream of a trip to the United Kingdom at long last came true in 1999. The first part of my holiday was in Ireland. On my very first night there, I went walking about the grounds at Muckross House in Killarney. The gardens were beautiful. I silently prayed that I might see an English robin on my trip. I kept my prayer private, thinking that my traveling companions might find my request slightly odd. I knew deep down that the Lord would surely let me see my bird...
And He did! I strolled through the gardens at twilight, when I heard that familiar robin song. My eyes darted to an old stone urn. The little redbreast was perched on top of it! The Lord had answered my simple little prayer!
Throughout my holiday in the U.K., saw only a few more English robins, but it impressed upon me to keep up my faith, and to realize that dreams do come true.
©2001 Sarah Meadows
Visitors: Did you find this page through a search engine? Is this the only page showing up? This website uses three frames. It should look something like the picture below: