More Vintage Model Horses
As if Breyers weren't enough, I have listed some other fantastic vintage models. While they are not Breyer horses, you may remember owning one of these when you were little!
HARTLAND glossy alabaster Walking Horse. Dates from the 1950s-1960s. She is in remarkably fine shape with no paint rubs or breaks. Her hind leg, however is slightly bent (I understand you can reshape plastic model horses' bent legs by using heat...I haven't tried it, though.). She can stand on her own with a help of a little sticky putty/stick 'ems. She measures about 8 inches tall.
Price: $25.00
---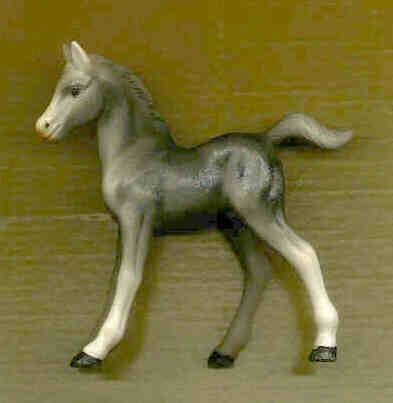 This adorable dapple gray foal also dates from the 1960s. He is in wonderful shape. (Unknown maker, plastic) Stands 4 1/4 inches tall.
Price: $6.00
---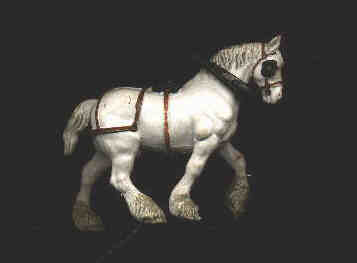 Draft Horse by BRITAINS. This lovely horse figurine was made in England by Britains Ltd. The date on his belly says 1972. I purchased him more recently than that, so I'm not sure of his exact age. His harness/tack is molded onto his body. A very unusual horse collectible in good condition. He measures approximately 2 1/2 inches tall. Plastic.
Price: $7.00
---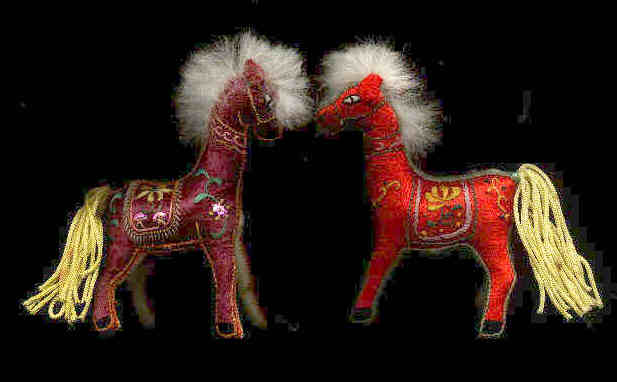 These whimsical, yet elegant silk horses have that oriental flair! They are from China and are in excellent condition! Their bodies are entirely decorated with floral embroidery designs. Their manes are made of clean white fur. Colors are purple (left) and red (right). Each horse measures about 3 inches tall. You can purchase them separately, but if you buy the pair, you can save!
Price: $9.50 each or both for $16.00
Visitors: Did you find this page through a search engine? Is this the only page showing up? This website uses three frames. It should look something like the picture below:

Click here to view the website in its entirety.